I perform in a variety of incarnations: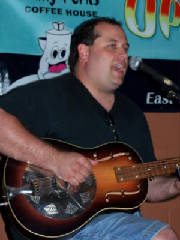 Solo: My solo material is predominantly blues based, with a healthy dose of pop standards that I've given my own special spin.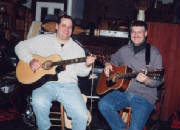 With Pete Collin: The Steve & Pete show is just a good time start to finish. We run the gamut from blues to pop to new age to oldies and some stuff that just defies category. You'll hear some tight harmonies, some virtuoso guitar work by Pete, maybe a little down and dirty harmonica by Steve. We do a lot of songs together, but we'll also branch off and do some solo work. This allows us to play long shows without extended break periods. Our record is 5 1/2 hours without a break. Please don't ask us to do that again.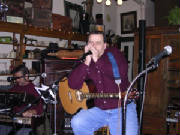 With Allan Howe: The Steve and Allan show is a little mellower. Allan is a virtual encylodedia of jazz standards. Mix in a few blues and Tin Pan Alley tunes, and you have an idea what we're all about. Allan's velvety vocals and smooth keyboard playing are a great contrast to my bluesier voice, guitar, and harmonica. We're available for private parties, coffee houses, small bars, or with a little notice, we can add a bass and drummer and do larger venues.
THE CHOCOLATE BAR
I am currently handling the scheduling of performers for The Chocolate Bar in Lakeville, NY.
www.chocolate-bar-ny.com
Please visit their website and take a look around.
Before you contact me, here are some details you should know about playing at the Chocolate Bar: First, it's a tip-only gig. We do our best to remind the audience of this fact a number of times and ways, but it's still up to them how much you get. Second, we are currently limiting acts to acoustic music. It's just the atmosphere that the owners would like, and it seems to be working well so far. (This doesn't include keyboard or electric bass)
Third, the space for performers to set up is very limited. Therefore anything bigger than a trio is just not very practical.
Still interested? Contact me at the email or phone number below. Sending a demo to the Chocolate Bar will probably get more attention that inquiries without one. Especially if I've never heard you before.